When you're reading a newspaper, magazine, or online publication, what is it that prompts you to turn the page or click a link? Usually, it's the headline. The headline contained something you were looking for, are interested in, or that made you think.
Your LinkedIn Profile is no different! When potential customers view your LinkedIn Profile, what's going to make them want to engage with you?
Last year, The Evolving Advisor covered the basics on Search Engine Optimization (SEO). Having a keyword-rich LinkedIn Headline and Profile is more important than ever if you want your target audience to find you on LinkedIn. Your LinkedIn Headline is the first thing your target audience sees and could be the last if you haven't used terms that will engage them.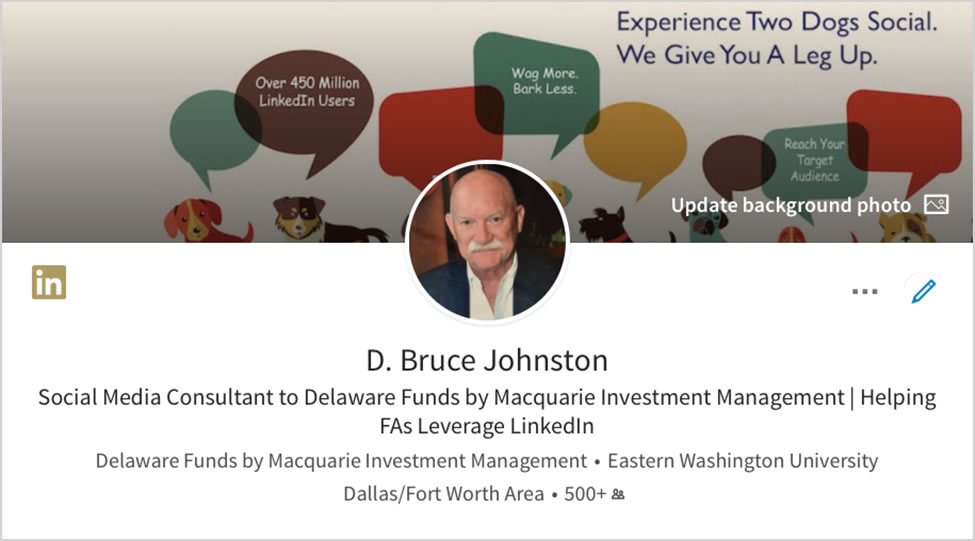 With approximately 120 characters to work with in your Headline and another 220 characters to work with in your Summary, these two areas of your LinkedIn Profile take on new importance. Of course, that's only if you're looking to be found and grab your visitor's attention.
By now you've all heard me tell the long-standing joke: "Where's the best place to hide a dead body?"
Answer: Page Two of Google. While that answer is greatly debated, it's accepted that somewhere between 91%-94% of searchers do not go past Page One of the search results. LinkedIn has tried to help you out by expanding the number of results it shows on Page One of its search to 10 profiles.
So, how does one go about building a standout LinkedIn Headline and unforgettable two-sentence LinkedIn Summary?
Start by building a "Buyer Persona." The truth of the matter is, I've just used a digital era term to describe what client acquisition specialists have been doing for years, identifying their ideal clients. A buyer persona is no more than a generalized representation of your ideal client.
Creating very specific buyer personas will dramatically improve your client acquisition results. Without a buyer persona, it's difficult for you to create an effective strategy to attract, sell to, and provide unforgettable client experiences for your target audience. Furthermore, without a "target audience" defined, it is almost impossible to build an effective LinkedIn Headline and Summary.
Here are a few sample questions to get you rolling. There are no right or wrong questions and you can add to or subtract from this list to fit your business model.
Build your ideal client profile by asking these questions:
Is your ideal client male or female? How old is he or she?
What is your client's marital status? Does he or she have children?
What's his or her annual household income?
Where does he or she live?
What level of education did he or she complete?
Which schools did he or she attend, and what did he or she study?
In which industry or industries does he or she work?
What is the size of his or her company (revenue, employees)?
By building a buyer persona, you can now put yourself in the position of your ideal client and how he or she might be searching for you on LinkedIn. You're looking to identify key words that they might use to find you. Is that by job title, technical skill, or a core competency?
Another tactic is to view the LinkedIn Profiles of other financial advisors with skills such as yours. What keywords are prevalent in their headlines? Here are a few examples of LinkedIn Headlines that may help:
Bringing a fresh perspective to thoughtfully designed retirement plans for the small to medium business marketplace
Managing director, helping to create successful retirement plan outcomes
Educating and empowering retirement plan fiduciaries
Also, view the two LinkedIn Summary introductory sentences of other financial advisors. The purpose is to identify keywords that are getting them noticed by the search engines.
Here are a few sample introductory sentences:
I am an educator, strategic thinker, planner, and participant advocate who works with small and medium businesses to improve their overall retirement plans and employee financial education programs. My goal is to provide…
I deliver strategies, systems, and services for qualified retirement plans, with a specific emphasis on managing fiduciary plan risk for clients. Services include investment analysis, plan design, and fee benchmarking.
My mission is to help educate and empower retirement plan fiduciaries to create effective retirement plans to help them attract, retain, and reward their employees. I enjoy helping business owners, key executives, and HR.
You don't have to know every detail about Search Engine Optimization or SEO; rather, just remember it is the simple activity of ensuring your website or LinkedIn Profile can be found in search engines by words and phrases relevant to your value proposition.
The takeaway: The more keywords in your LinkedIn Headline and in your LinkedIn Summary, the higher you will rank in searches. An eye-catching headline will intrigue people. A catchy two-sentence summary has the effect of increased page views, which translates to potential business.
P.S. As a thank you for your time we're pleased to provide you a copy of our eBook: 9 To-Do's in 9 Minutes on LinkedIn – A Daily LinkedIn Routine for Financial Advisors. 
Hi this is Jordan from Two Dogs Social! If you'd like professional help with your LinkedIn Profile, send me an email. I'd be happy to provide feedback on your existing LinkedIn Profile along with a firm price quote to strategize and write a new one. Plus, as a reader of this blog I'm happy to offer you a 20% discount. Just mention our Two Dogs Social blog in your email.